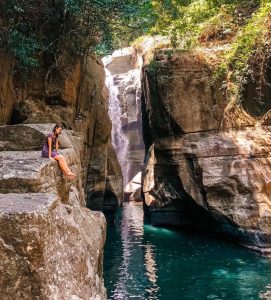 An amazing Waterfall close to Labuan Bajo is Cunca Wulang, 30meters in height surrounded by steep slopes cliffs and thick forest situated at Warsawe village, about 30km eastern part of Labuan Bajo. On the walk to the waterfall you will past paddy fields in different stages of the planting and harvesting cycle of rice crops. Vanilla, coffee, candle nut and cacao can also be seen along the trail. The last, steep part of the walk is down a trail in a tropical rain forest. It is a good place for trekking, hiking and swimming on natural pool, there is also a spot of 4 meters in height for jumping down to natural swimming pool will become a special experience.
Itinerary:
Start and end: Labuan Bajo
Cunca Wulang Waterfall – Caci Dance at Cecer Village (L)
Breakfast at your Hotel in Labuan Bajo. After breakfast drive to visit Cunca Wulang Waterfall about 2 hours. Arrive at the starting point and then continue with trekking about 30 minutes. When you arrive in waterfall, you can spending time by swimming and jumping inside the pool here. Lunch box provided. After spending time in waterfall we will continue drive back to Labuan Bajo. On the way will be stop to visit Cecer Village.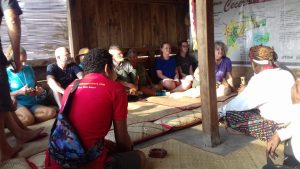 Cecer Village is an excellent choice for the travelers in search of a distinct Manggaraian cultural experience. The cultural cooperative of Riang Tana Tiwa will be eager to receive you with a warm traditional welcome ceremony. Cecer Village offers a range of village-based tourism activities, exciting cultural art perfomance such as the traditional bamboo pole jumping game 'Tetek Alu', the 'Ndudu Dake' dance, communion dance and the well-known Caci perfomance.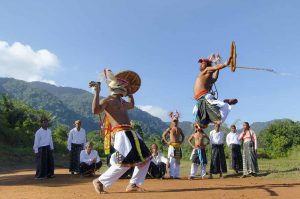 Caci Perfomance is more than just a traditional performance; it is a major element of Manggaraian cultural identity and an important part of ceremonial life. Being a unique aesthetic delight for spectators, Caci performances are an attraction to overseas as well as domestic visitors to Manggarai. In Kampung Cecer (kampung means 'village' in Indonesian), visitors have the opportunity to enjoy a Caci performance organized by Riang Tana Tiwa' cooperative. You are invited to a traditional ceremony where guests are served sopi, the local palm wine, before joining the Caci performance. The wine cups are made out of coconut shells – one of the many vigilant details that gives the visitor an idea of traditional Manggaraian daily life.
Drive back to Labuan Bajo. Arrive in Labuan Bajo drop you off at your Hotel. End of service.
Price Include: Private car with AC, English speaking guide and guide fee, entrance fee, lunch box provided, unlimited mineral water during tour, tour as per the itinerary.
Price Exclude: Personal expense, Personal travel insurance, tipping, etc.
Hightlights
Share